The first recipients of Imperial's £1 million initiative to fund experimental medicine proposals have been announced.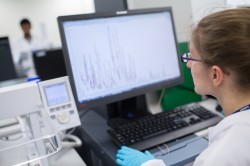 Fifteen researchers at Imperial and Imperial College Healthcare NHS Trust have been awarded funding totalling over £1 million for their research projects through the Institute of Translational Medicine and Therapeutics (ITMAT).  This is a virtual institute which aims to support the translation of pre-clinical research projects into therapies, techniques and medical products that could bring improvements in human health and economic benefits. It is funded by, and a core part of, the NIHR Imperial Biomedical Research Centre (BRC).
Some of the projects that recipients of ITMAT funding will undertake include developing new ways to predict survival rates of patients with cirrhosis, preventing side effects associated with hip replacement surgery and anticipating tumour aggressiveness in women with ovarian cancer.
ITMAT is built upon a number of technology platforms across the College and the Trust, in which the BRC has invested significantly in recent years.  These range from gene sequencing and genome informatics facilities to improve the diagnosis and treatment of all diseases to analytical techniques provided through the Imperial Clinical Phenotyping Centre.  This helps doctors choose the best treatments based on a patient's individual metabolic and physiological characteristics. Other facilities include MRI and PET imaging, biobanks which store human tissue samples for research and the NIHR / Wellcome Trust Imperial Clinical Research Facility at Hammersmith Hospital, part of Imperial College Healthcare NHS Trust.
Applicants must engage with at least one of ITMAT's core facilities in their studies and include plans for follow-on funding.
Professor Jeremy Nicholson, Chair of the ITMAT Management Committee, said:
"I am pleased to award the first group of talented researchers with ITMAT funding. They are working on projects that could transform how patients are treated for a range of chronic conditions.  These projects have a workable hypothesis and are close to demonstrating success.  What ITMAT funding will do is take them over the finish line, turning them from ideas into potential clinical benefits."
Here we meet three of the new intakes.
Dr Muireann Coen, Lecturer in Metabonomics and Biochemical Toxicology at Imperial College London
Muireann aims to develop new effective ways of predicting survival rates in patients with cirrhosis. Cirrhosis is a condition which causes scarring of the liver and prevents it from working properly. The main causes of cirrhosis are the excessive consumption of alcohol over a long period of time, non-alcoholic fatty liver disease and viral hepatitis. More than 4,000 people a year die from cirrhosis in the UK and around 700 people need a transplant annually in order to survive. There is currently no reliable test to predict the prognosis of patients with cirrhosis.
Muireann will use the facilities at the Imperial Clinical Phentotyping Centre to analyse 350 blood plasma samples of patients with cirrhosis and those without to develop statistical models that can predict a patient's survival of the disease.  This can help doctors introduce treatments for patients at an earlier stage to prevent deaths and decide on who would benefit from prioritisation of a liver transplant.
Muireann will work in collaboration with Dr Vishal Patel at Kings College Hospital and Dr Mark McPhail at St Mary's Hospital, part of Imperial College Healthcare NHS Trust.
Dr Muireann Coen said:
"A proportion of patients diagnosed with cirrhosis deteriorate rapidly, requiring admission to intensive care.  I hope the results of my study can be used to identify patients who are most at risk of deteriorating and so implement treatments that can save their lives."
Eric Aboagye, Professor of Cancer Pharmacology and Molecular Imaging at Imperial College London
Eric will work with a team at the Trust to develop new ways of predicating tumour aggressiveness in patients with ovarian cancer.  Around 7,000 women are diagnosed with ovarian cancer each year and it's the fifth most common cancer in the UK.   Ovarian cancer is usually diagnosed at an advanced stage because it rarely causes any noticeable symptoms when it first develops.  As a result the long-term survival rate is just 35 per cent.   Ovarian cancer can be strongly influenced by genes and can run in families.
Eric and his team of surgeons, radiologists, oncologists and basic scientists will use a mathematical software tool called TEXLab to analyse tumour aggressiveness in CT scans of 330 women with ovarian cancer.  The team hope to get information on the structure and genetic code of tumours that is not visible to the naked eye in order to learn more about how the disease develops and spreads.  The results could help pave the way for more targeted treatments that take a patients' genetic make-up into account.
Professor Eric Aboagye said:
"Predicating how ovarian cancer tumours develop and spread is vital for tackling this disease.  I hope the results of this project can be used to develop more personalised treatments that can improve the long-term survival rates of patients and save lives."
Professor Justin Cobb, Chair in Orthopaedic Surgery, Imperial College London
Justin and his team of researchers at Imperial are investigating new ways of measuring the strength of bones. Currently, doctors rely on DEXA scans, a type of x-ray, to assess the strength of a patients' bone. While this is the 'gold' standard, it is not very effective at predicting fractures. This is particularly relevant for older women who need joint replacement surgery as they are more likely to experience fractures due to higher incidences of weak and fragile bones.
Fractures are a serious complication that often requires further surgery. This is due, in part, to the difference in stiffness between implant material and patients' bones.  This could be reduced by better matching implants to patients' bone quality.
Justin and his team will assess whether micro-indention can help predict bone quality.  This is an engineering technique used to measure the stiffness of materials.  The team will examine 50 bone samples of patients undergoing hip replacement surgery to see whether micro -indention can measure the elasticity of cortical bone, a type of tissue that forms bones.
The team aim to use the results to create a clinical device that surgeons can use to help them choose an implant that more closely match the patient's bone.  This may reduce fractures and increase the lifespan of the implant, decreasing further revision operations for patients in the future.
Professor Justin Cobb, Chair in Orthopaedic Surgery, Imperial College London, said:
"The NHS carries out more than 30,000 hip replacement procedures each year, at a total cost of some £140million annually.   There is a need to find new ways to ensure that patients do not experience complex side effects as a result of hip replacement surgeries.  We hope that the results of our project can be used to create a device that can help guide surgeons to choose the most effective implants that would prevent fractures and increase the lifespan of the implant, reducing the need for further expensive revision operations in the future."
ITMAT is an example of the activities conducted by Imperial College Academic Health Science Centre (AHSC), a joint initiative of Imperial College London and Imperial College Healthcare NHS Trust.  It aims to transform healthcare by turning scientific discoveries into medical advances to benefit local, national and global populations in as fast a timeframe as possible.
Professor Jonathan Weber, Director of Imperial College Academic Health Science Centre, added:
"ITMAT is a great example of our commitment to support experimental medicine projects at Imperial and ensure that new ideas are fully explored.  This year's recipients of ITMAT support will now be able to use this seed funding to accelerate their research.  I am excited by the potential of these projects which could result in improved health outcomes for patients."
Reporting by Maxine Myers